NGV Limited Edition - Emma Armstrong-Porter, Breaking Out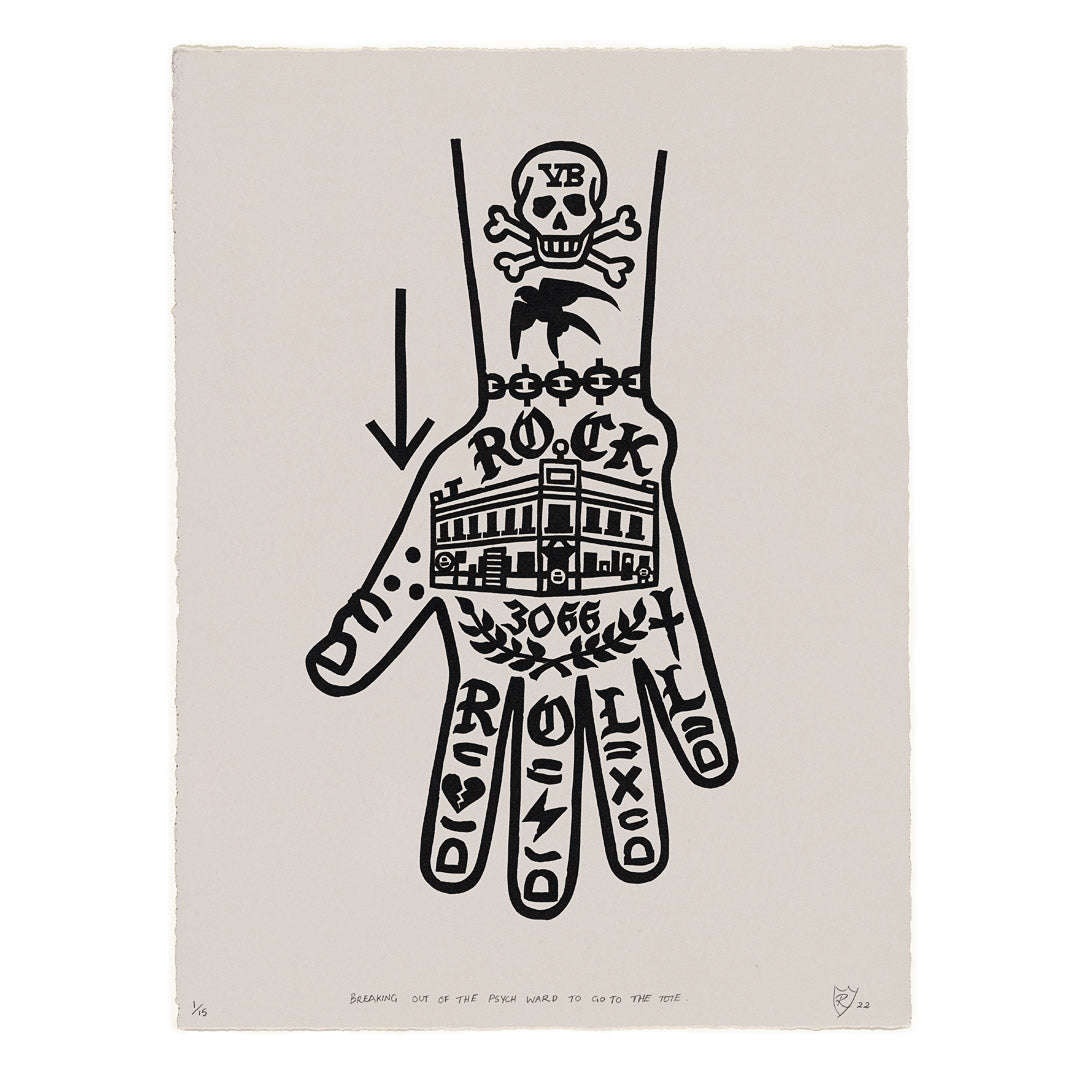 NGV Limited Edition - Emma Armstrong-Porter, Breaking Out
Description
The Melbourne Now Print Portfolio comprises twelve new prints commissioned especially for the exhibition. Contributing one print each, established and emerging artists explored a range of techniques, with the diversity of work reflecting Melbourne's dynamic and flourishing print community.
Emma Armstrong-Porter is an emerging multidisciplinary artist whose practice centres on relief printmaking and chemistry-based photographic techniques. Often employing the visual language of tattoos, their work is influenced by lived experiences of queerness, autism, mental illness and institutionalisation, as well as consumerism and suburbia.
Each edition is signed and numbered by the artist.

Edition of 15.
Every NGV Edition purchase supports the National Gallery of Victoria.
Domestic customers: this NGV Edition is shipped using an insured express service.
International customers: this NGV Edition is shipped using an insured courier service.
Specifications
Linocut on grey paper
Approximately A2 in size
About the artwork
Commissioned for the Print Portfolio, Breaking out of the psych ward to go to The Tote, 2022, explores tattoos as a form of autoethnography. The linocut depicts a graphic hand – inscribed with an idiosyncratic and personal semiotic system – that narrates the artist's own story of institutionalisation. Drawing inspiration from prison tattoos, where symbols like cathedrals and citadels are inked onto prisoners' bodies to indicate time spent incarcerated, Armstrong-Porter's church is the iconic Collingwood pub, The Tote. Between an image of the rock-and-roll venue's facade and a skull and crossbones scored with the initials VB for Victoria Bitter, a single swallow flies with outstretched wings, a tattoo motif that traditionally symbolises a safe return home for sailors and, for Armstrong-Porter, the possibility of freedom.

Breaking out of the psych ward to go to The Tote is a continuation of their ongoing linocut collection, The Swanston Street Series, exhibited at Fitzroy's B-Side in 2021 and which was created over a six-year period when Armstrong-Porter was periodically hospitalised in local psychiatric units. The series examines perceived problems in the Victorian public mental-healthcare system, particularly for queer people.

Emma Armstrong-Porter Breaking out of the psych ward to go to the Tote 2022; linocut on grey paper; ed. 1/15. Commissioned by the National Gallery of Victoria, Melbourne, 2022
© Emma Armstrong-Porter
Terms & Conditions
This item is a limited edition.

Only 1 edition copy per customer – multiple purchases will be refunded.

No discounts apply.

Any orders with an applied discount will be refunded as this item can not be discounted.

Limited edition sales are final - refunds, cancellations and exchanges cannot be accepted.

International orders are subject to import duties, taxes and delivery service charges that are the responsibility of the customer.
NGV Limited Edition - Emma Armstrong-Porter, Breaking Out
No more products available for purchase