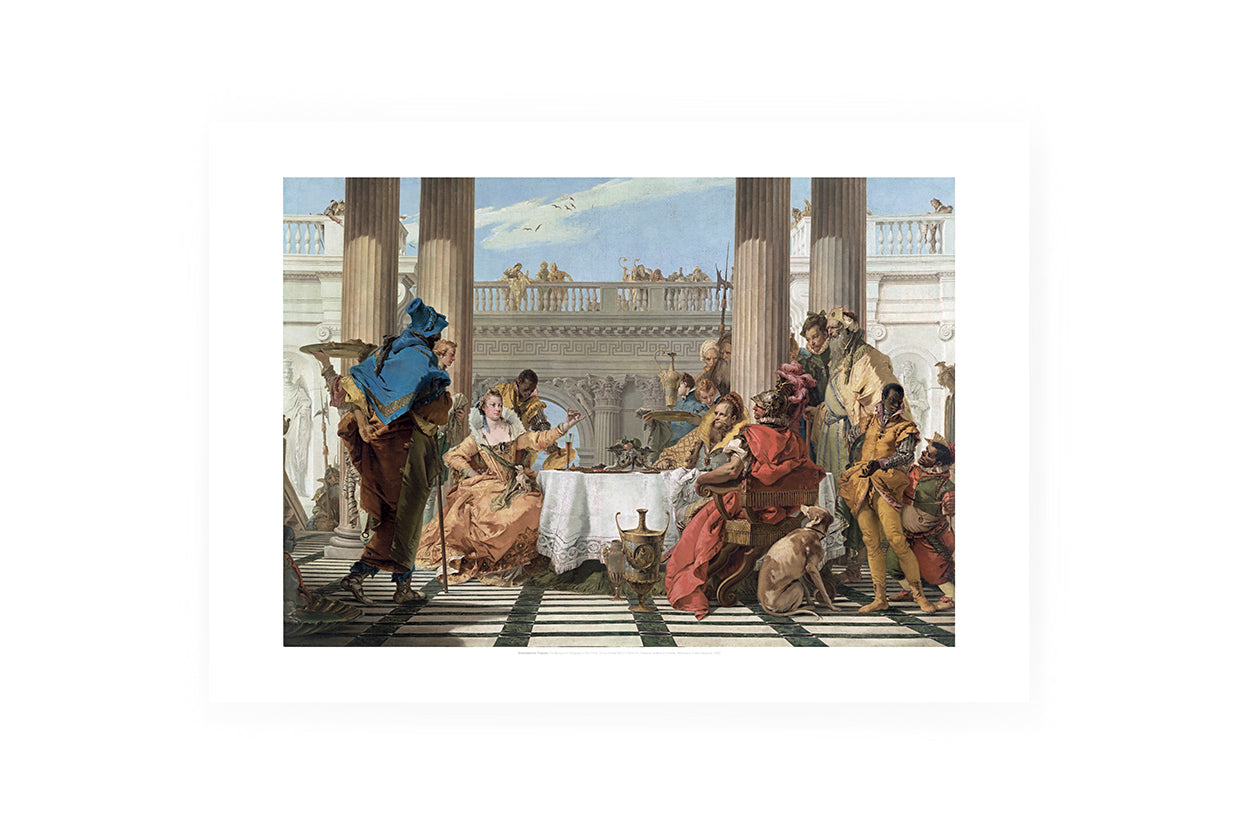 Poster - Giambattista Tiepolo, Banquet of Cleopatra
Description
This NGV Collection poster features Tiepolo painting The Banquet of Cleopatra. This iconic and all time NGV favourite is perfect for any wall of your home or office.

Please note: All our poster products are shipped in protective poster tubes and are sent separate to other items placed in the same order.

Specifications
Printed on luxury 170gsm Hanno Silk Art paper
Standard A2 in size measuring 59.4 x 42 cm

Made in Melbourne and designed exclusively for the NGV design store.
About the artwork
The love affair between the Roman consul Mark Antony (83–30 BC) and the Egyptian queen, Cleopatra (69–30 BC) was a popular subject for artists in the eighteenth century. The episode represented in Tiepolo's painting is drawn from Pliny's Natural History (written in AD 77). Here Pliny recounted the tale of a famous contest between the Egyptian and Roman rulers whereby Cleopatra wagered that she could stage a feast more lavish than the legendary excesses of Mark Antony.

Tiepolo shows the dramatic moment at the end of Cleopatra's repast when, faced with a still scornful Mark Antony, she wins the wager with her trump card. Removing one of a pair of priceless pearl earrings, Cleopatra dissolves it in a glass of vinegar and drinks it, thereby causing Mark Antony to lose his bet. The Banquet of Cleopatra was purchased directly from Tiepolo's Venice studio in early 1744, by Count Francesco Algarotti, for Augustus III, Elector of Saxony and King of Poland. The artist was paid three hundred zecchini for the painting, which was then dispatched to Dresden (and, subsequently, to the elector's hunting lodge at Hubertusburg), remaining in the royal collections of Saxony until 1765. However, by the turn of the nineteenth century, The Banquet of Cleopatra had entered the Russian imperial collections, and was for a time placed on a ceiling within the Mikhailovsky Palace in St Petersburg. Later it was transferred to the Hermitage Palace, where it remained until sold to the National Gallery of Victoria by the Soviet authorities in 1932.

Giambattista TIEPOLO
The Banquet of Cleopatra (1743-1744)
oil on canvas
250.3 x 357.0 cm
National Gallery of Victoria, Melbourne
Felton Bequest, 1933
Poster - Giambattista Tiepolo, Banquet of Cleopatra