NGV Limited Edition - Rubii Red, White Australia has a Blak History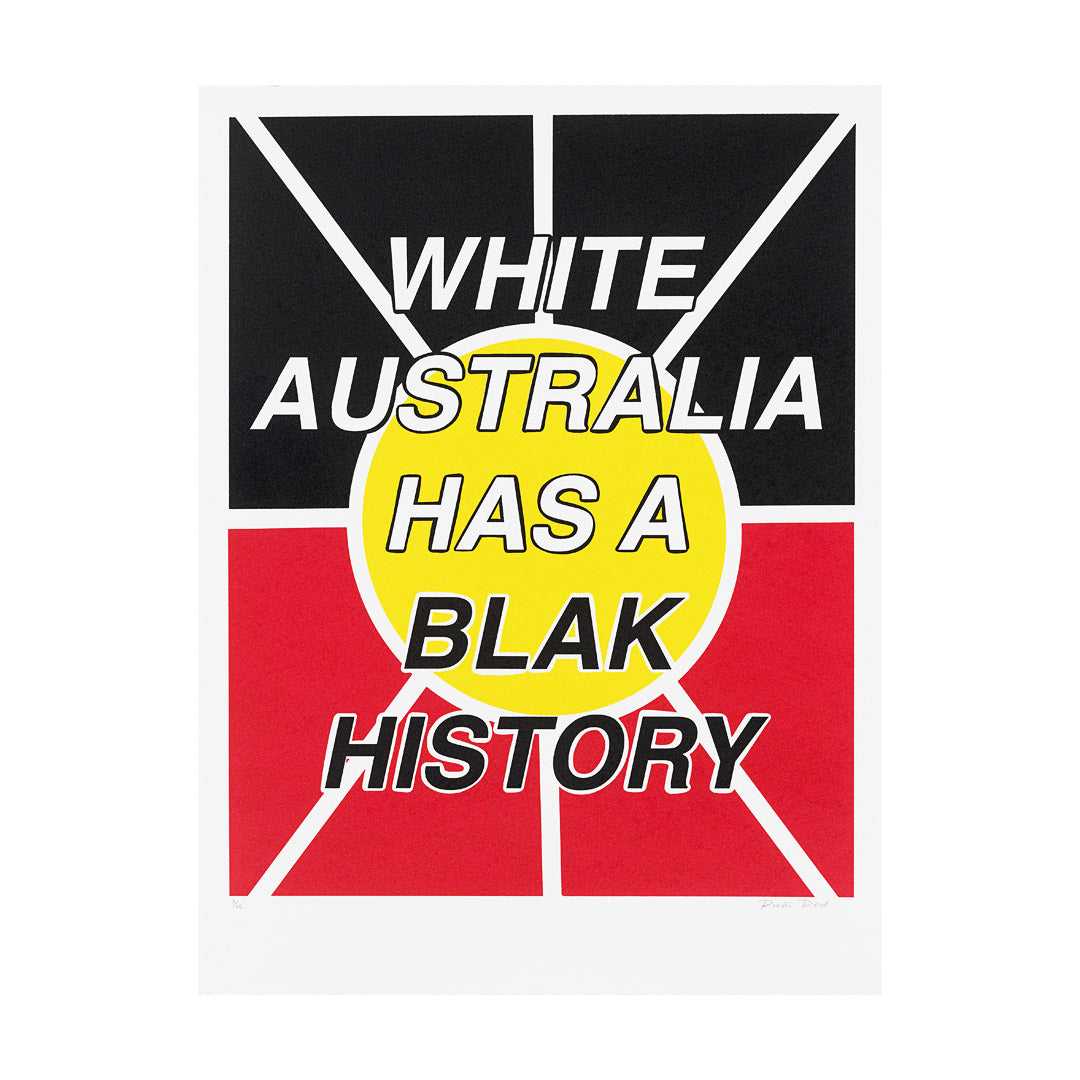 NGV Limited Edition - Rubii Red, White Australia has a Blak History
Description
The Melbourne Now Print Portfolio comprises twelve new prints commissioned especially for the exhibition. Contributing one print each, established and emerging artists explored a range of techniques, with the diversity of work reflecting Melbourne's dynamic and flourishing print community.
Rubii Red is a proud Lama Lama artist, activist and Twitch streamer who uses her work to share her culture and discuss issues affecting her and her community. Red's lifelong love of anime and comic books has influenced her graphic style, in a practice that spans portraits, abstract line work, character design and fan art.
Each edition is signed and numbered by the artist.

Edition of 15.
Every NGV Edition purchase supports the National Gallery of Victoria.
Domestic customers: this NGV Edition is shipped using an insured express service.
International customers: this NGV Edition is shipped using an insured courier service.
Specifications
Screenprint
Approximately A2 in size
About the artwork
Red's new work White Australia has a Blak history, 2022, commissioned for Melbourne Now as part of the Print Portfolio project, was created in response to Invasion Day (aka Australia Day). The design comes from a hand-painted sign that Red made for an Invasion Day rally in 2017 – which she has digitally redrawn and printed with Troppo Print Studio in Coburg – demonstrating the confluence of art and activism that often characterises her work. Summoning the iconic slogan that appeared on Mandandanji artist Laurie Nilson's NAIDOC week poster in 1987, Red draws subtle connections between First Nations activism across the intervening decades, and highlights Australia's enduring reluctance to meaningfully acknowledge First Nations people and the dispossession at the heart of Australian history. The play on words is not only a celebration of First Nations strength, continuity and sovereignty, but also an allusion to the shadowed history of colonial violence since invasion. For Red, this piece is a gentle reminder to the nation's citizens that the land they celebrate on always was, and always will be, Aboriginal land.

Rubii Red White Australia has a Blak history 2022; screenprint, ed. 1/15. Commissioned by the National Gallery of Victoria, Melbourne, 2022
© Rubii Red. Printed by Sarah Murphy, Troppo Print Studio
Terms & Conditions
This item is a limited edition.

Only 1 edition copy per customer – multiple purchases will be refunded.

No discounts apply.

Any orders with an applied discount will be refunded as this item can not be discounted.

Limited edition sales are final - refunds, cancellations and exchanges cannot be accepted.

International orders are subject to import duties, taxes and delivery service charges that are the responsibility of the customer.
NGV Limited Edition - Rubii Red, White Australia has a Blak History
No more products available for purchase