NGV Limited Edition - Deanna Hitti, M Is For Madraseh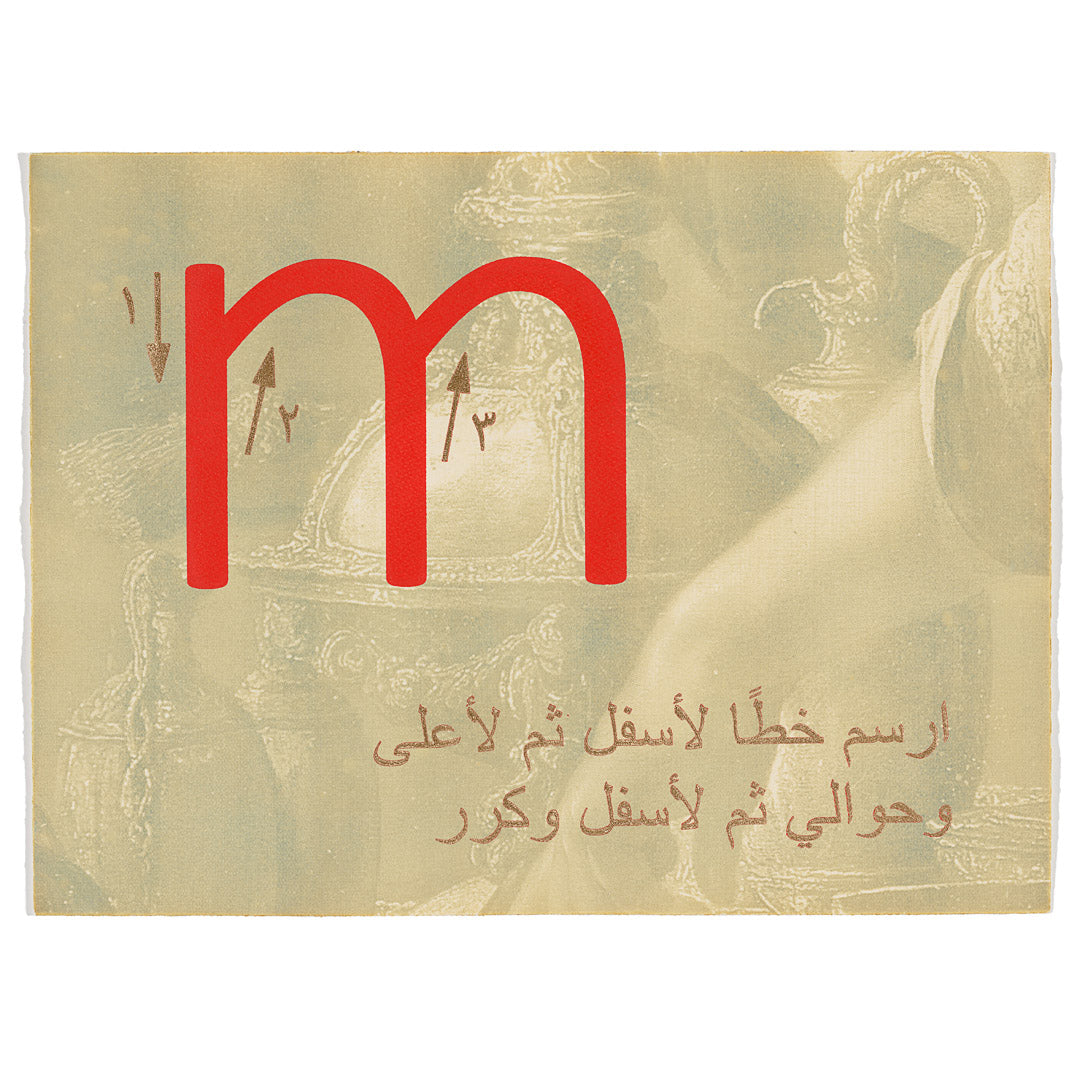 NGV Limited Edition - Deanna Hitti, M Is For Madraseh
Description
The Melbourne Now Print Portfolio comprises twelve new prints commissioned especially for the exhibition. Contributing one print each, established and emerging artists explored a range of techniques, with the diversity of work reflecting Melbourne's dynamic and flourishing print community.
Deanna Hitti's multidisciplinary practice explores the nuanced relationships between Middle Eastern and Western cultures. Informed by her Lebanese heritage, Hitti's work often references historical and cultural material to reveal how perceptions of difference are constructed. Her large-scale prints and artist books employ various print methods, including cyanotypes, photography and screenprinting.
Each edition is signed and numbered by the artist.

Edition of 15.
Every NGV Edition purchase supports the National Gallery of Victoria.
Domestic customers: this NGV Edition is shipped using an insured express service.
International customers: this NGV Edition is shipped using an insured courier service.
Specifications
Colour screenprint on cyanotype print
Approximately A2 in size
About the artwork
Hitti's new work, M is for madraseh (school), 2022, is an extension of her installation A is for alam (pen), which was first exhibited as part of Handmade Universe at the State Library of Victoria in 2022. The series drew inspiration from histories of printing and publishing, presented as 156 double-sided floating pages that could be folded into books. Curator Linda Short describes the installation as a 'challenge … [to] the history of the Western gaze'.

The work re-imagines over 100 images from French orientalist paintings made during the early period of colonialism. Hitti employs an historical method of reproduction, the cyanotype, to reclaim and reconfigure distorted depictions of Middle Eastern people, erasing and reprinting these archival images to transform their misrepresentations into ghostly presences. The work is then overlaid with a two-colour screenprint that teaches an Arabic-speaking child learning the English language how to write the Latin letter 'm', recalling textbooks that Hitti herself studied as preparation for starting school. The resulting work is a subtle commentary on how notions of 'self' and 'other' are formed, practised and contrived through both image and text.

Deanna Hitti M is for madraseh (school) 2022–23; colour screenprint on cyanotype print; ed. 1/15.
Commissioned by the National Gallery of Victoria, Melbourne, 2022
© Deanna Hitti
Terms & Conditions
This item is a limited edition.

Only 1 edition copy per customer – multiple purchases will be refunded.

No discounts apply.

Any orders with an applied discount will be refunded as this item can not be discounted.

Limited edition sales are final - refunds, cancellations and exchanges cannot be accepted.

International orders are subject to import duties, taxes and delivery service charges that are the responsibility of the customer.
NGV Limited Edition - Deanna Hitti, M Is For Madraseh
No more products available for purchase