NGV Limited Edition - Matthew Clarke, Lost in Melbourne Zoo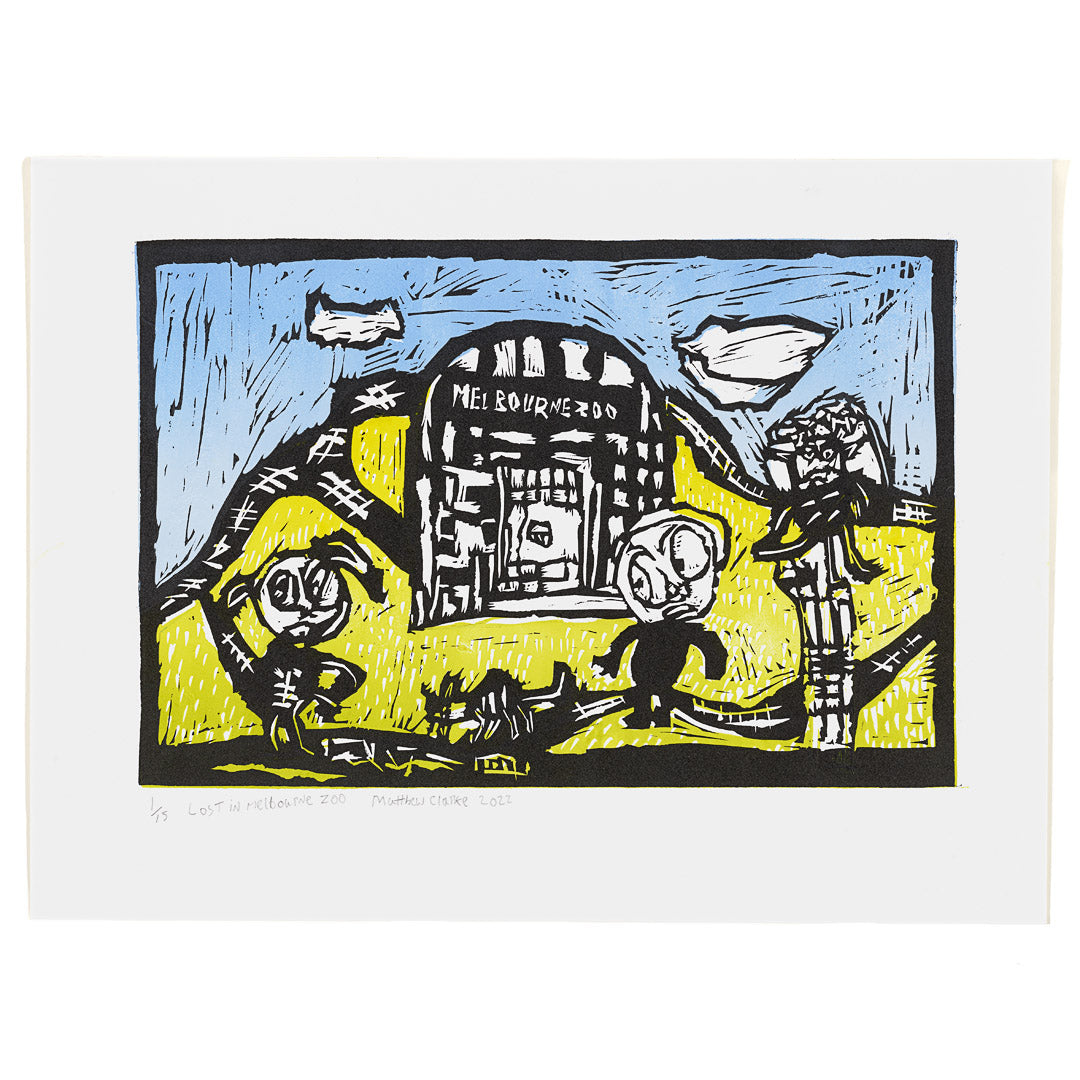 NGV Limited Edition - Matthew Clarke, Lost in Melbourne Zoo
Description
The Melbourne Now Print Portfolio comprises twelve new prints commissioned especially for the exhibition. Contributing one print each, established and emerging artists explored a range of techniques, with the diversity of work reflecting Melbourne's dynamic and flourishing print community.
Matthew Clarke is a painter, printmaker and sculptor whose unique work is distinguished by his neo-expressionist aesthetic, vibrant colours and sense of spontaneity. The neurodiverse artist often draws inspiration from personal experiences, friends and family and his everyday surroundings.
Each edition is signed and numbered by the artist.

Edition of 15.
Every NGV Edition purchase supports the National Gallery of Victoria.
Domestic customers: this NGV Edition is shipped using an insured express service.
International customers: this NGV Edition is shipped using an insured courier service.
Specifications
Colour linocut
Approximately A2 in size
About the artwork
Commissioned for the Print Portfolio, Clarke's new work Lost in Melbourne Zoo, 2022, continues his recent printmaking series about his experience of being lost in the city. Created with the technical guidance of his mentor and long-time collaborator Glenn Morgan, Clarke's linocut tells a family story, remembering the time he became separated from his father and uncle at Melbourne Zoo as a young child. Characteristic of the artist's lively and dynamic style, the print summons all the turbulent emotions of a child who finds themselves outside the zoo's gates, captured in bold and spirited lines that vibrate with energy. The human figure is not totally alone, however, but accompanied by a wallaby, a motif which has featured recurrently in the artist's drawings, paintings and sculptures since 2012. Clarke's expressive take on this native animal inspires feelings of joy, intrigue and, here, some comfort in the face of the unknown.

Matthew Clarke Lost in Melbourne Zoo 2022; colour linocut; ed. 1/15. Commissioned by the National Gallery of Victoria, Melbourne, 2022
© Matthew Clarke. Printed by Glenn Morgan.
Terms & Conditions
This item is a limited edition.

Only 1 edition copy per customer – multiple purchases will be refunded.

No discounts apply.

Any orders with an applied discount will be refunded as this item can not be discounted.

Limited edition sales are final - refunds, cancellations and exchanges cannot be accepted.

International orders are subject to import duties, taxes and delivery service charges that are the responsibility of the customer.
NGV Limited Edition - Matthew Clarke, Lost in Melbourne Zoo
No more products available for purchase