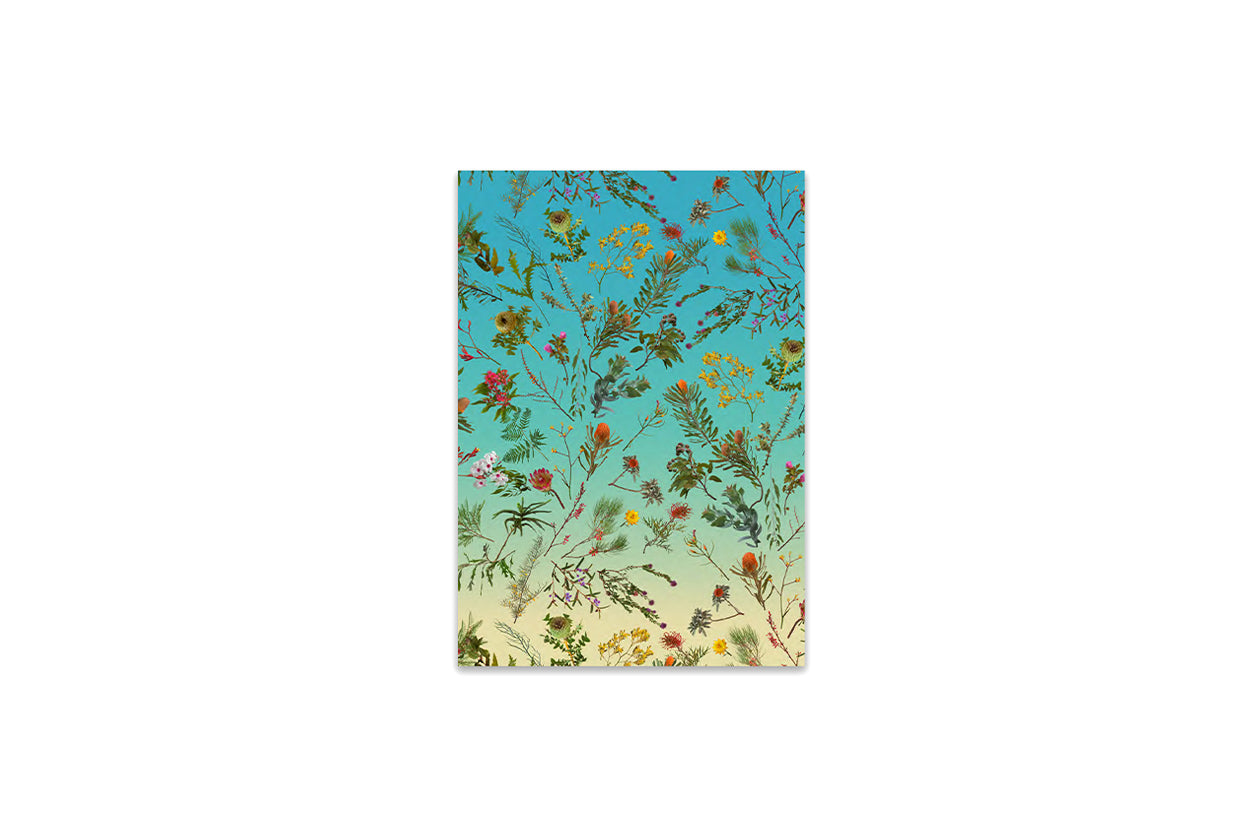 Greeting Card - Fallen Fruit, Blue Native Plants
Description
To celebrate Fallen Fruit's Triennial 2020 – 2021 commission, Natural History 2020, the NGV design store has collaborated with David Allen Burns and Austin Young / Fallen Fruit to create a range of merchandise including this botanical greeting card. Based on Native Plants - Cranbourne Gardens repeat pattern created using photographs taken at the Royal Botanic Gardens Cranbourne during Fallen Fruit's 2020 research trip.
Specifications
Sold singularly, each card is blank and includes an envelope.
Exclusive to the NGV design store and made in Melbourne.
About the artwork
For Natural History 2020, David Allen Burns and Austin Young / Fallen Fruit created an immersive installation artwork that utilises photographs of Australian flora and selected artworks from the NGV permanent collection to respond to history and the environment. The artwork is a triptych composed of asynchronous repeat patterns printed onto fabric wall coverings. Wrapping the NGV's 16th and 17th Century Gallery, the wall coverings incorporate photographs of plants, fruits and flowers made by the artists during a research trip to Melbourne in early 2020. The trip included visits to Melbourne's Royal Botanic Gardens, Cranbourne Gardens, the Collingwood Children's Farm and surrounding neighbourhoods. The wall coverings are presented alongside NGV Collection works portraying issues of colonialism, the natural world, and narrative depictions of religion and the supernatural, with the artists selecting and re-organising the works to form contemporary perspectives on race, class and gender. A joint statement by Fallen Fruit notes: 'As artists, we are interested in how people, plants, and animals are represented in various natural settings, landscapes, and gardens. By drawing from the NGV Collection, the immersive artwork also becomes a story about the formation of colonial Australia itself, and how people and plants from other places have naturalised within the Indigenous landscape.'

Image credit: David Allen Burns and Austin Young / Fallen Fruit, detail from NATURAL HISTORY, 'Native Plants' (Cranbourne Gardens) repeat pattern, 2020.
Greeting Card - Fallen Fruit, Blue Native Plants