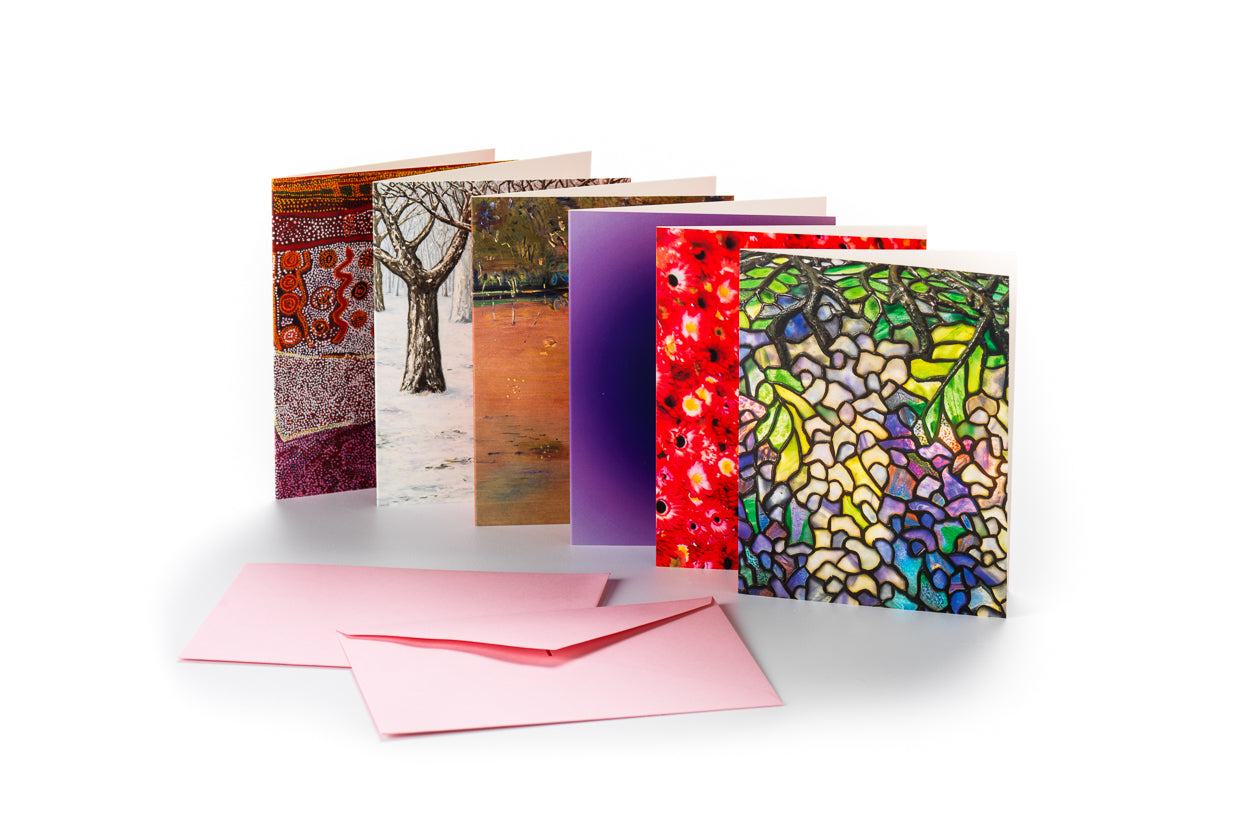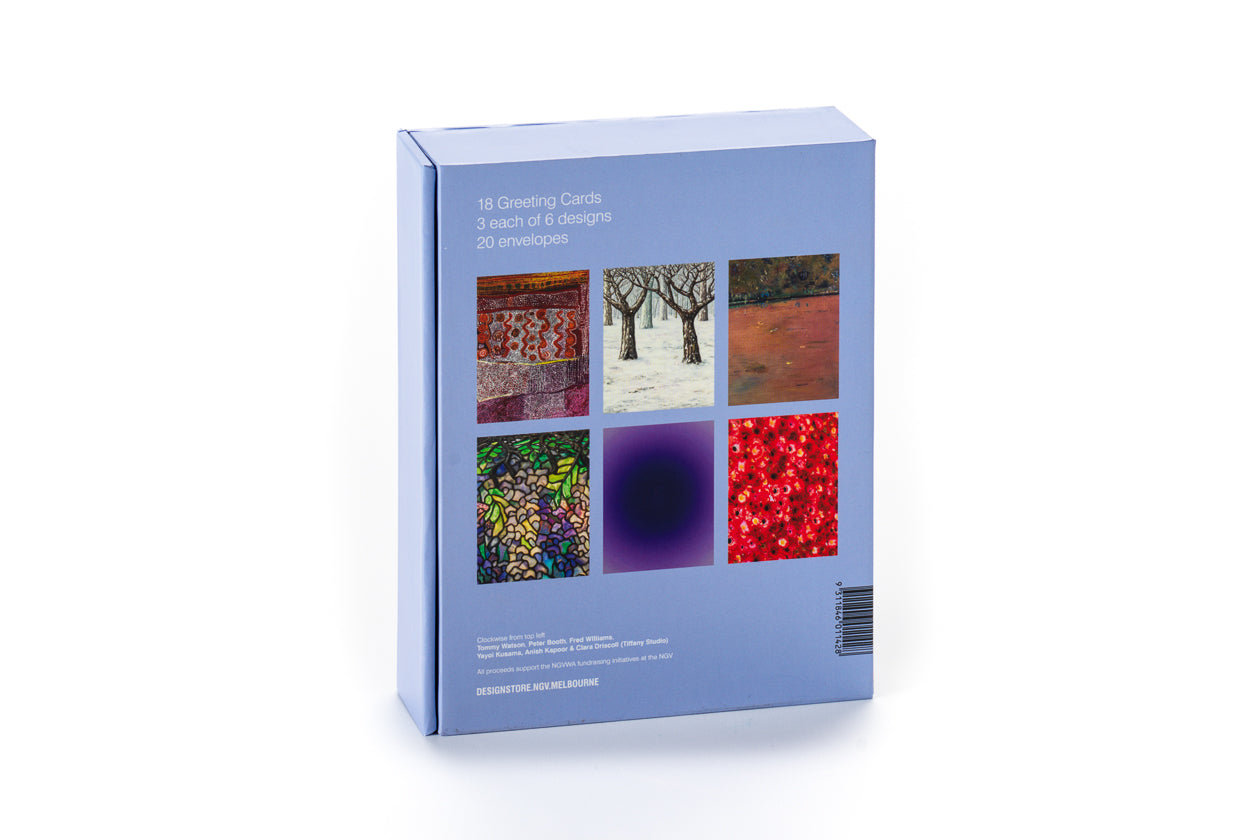 Greeting Card Set - NGVWA
Description
The NGV design store has collaborated with the NGVWA to produce a new greeting card pack to celebrate 60 years of acquisitions funded by the NGVWA. Each set features six important artworks acquired through the NGVWA's fundraising activities.
 
The NGVWA raises funds to acquire works of art for the NGV, travel scholarships for NGV Curators, and scholarship for art students of the VCA. Sales of the card pack support the fundraising initiatives of the NGVWA.

Please note, discounts cannot be applied to this product as it is a fundraising initiative for the NGVWA.
Specifications
18 Greeting cards (10.3cm x 13.2cm)
6 designs
20 envelopes
Exclusive to the NGV design store.
About the artwork
Tommy Watson
Awilyulu 2003 (detail)
synthetic polymer paint on canvas
199.5 x 147.4 cm
National Gallery of Victoria, Melbourne
Presented through the NGV Foundation by Susan and Michael Hamson, Fellow,
and through the National Gallery Women's Association, Governor, 2003
© Tommy Watson, courtesy of Irrunytju Arts
All proceeds support the NGVWA fundraising initiatives at the NGV

Peter Booth
Winter 1993 (detail)
oil on canvas
203.4 x 396.5 cm
National Gallery of Victoria, Melbourne
Presented by the National Gallery Women's Association, 2002
© Peter Booth/Licensed by Copyright Agency, Australia
All proceeds support the NGVWA fundraising initiatives at the NGV

Fred Williams
Forest pond 1974 (detail)
oil on canvas
183.6 x 152.6 cm
National Gallery of Victoria, Melbourne
Presented by the National Gallery Women's Association, 1975
© Estate of Fred Williams
All proceeds support the NGVWA fundraising initiatives at the NGV

Tiffany Studios, Corona, New York (parent company)
Tiffany Furnaces, Corona, New York (manufacturer)
Clara Driscoll (designer)
Wisteria, table lamp 1903-1905 (detail)
glass, lead, bronze (patinated), electrical components
68.6 x 47.0 cm diameter
National Gallery of Victoria, Melbourne
Purchased, NGV Women's Association, 2018
All proceeds support the NGVWA fundraising initiatives at the NGV

Anish Kapoor
Untitled 1998 (detail)
colour pigment-transfer print on polyester
44.7 x 53.5 cm (image) 47.9 x 55.9 cm (sheet)
National Gallery of Victoria, Melbourne
Purchased with funds donated by the National Gallery Women's Association, 2005
© Anish Kapoor/DACS, London. Licensed by Copyright Agency, Australia
All proceeds support the NGVWA fundraising initiatives at the NGV

Yayoi Kusama
FLOWER OBSESSION 2017 (detail)
flower decals, fabric flowers, furniture, found objects
330.0 x 1890.0 x 1480.0 cm (variable) (installation)
National Gallery of Victoria, Melbourne
Purchased, NGV Women's Association, 2018
© Yayoi Kusama, courtesy of Ota Fine Arts, Tokyo
All proceeds support the NGVWA fundraising initiatives at the NGV
Greeting Card Set - NGVWA