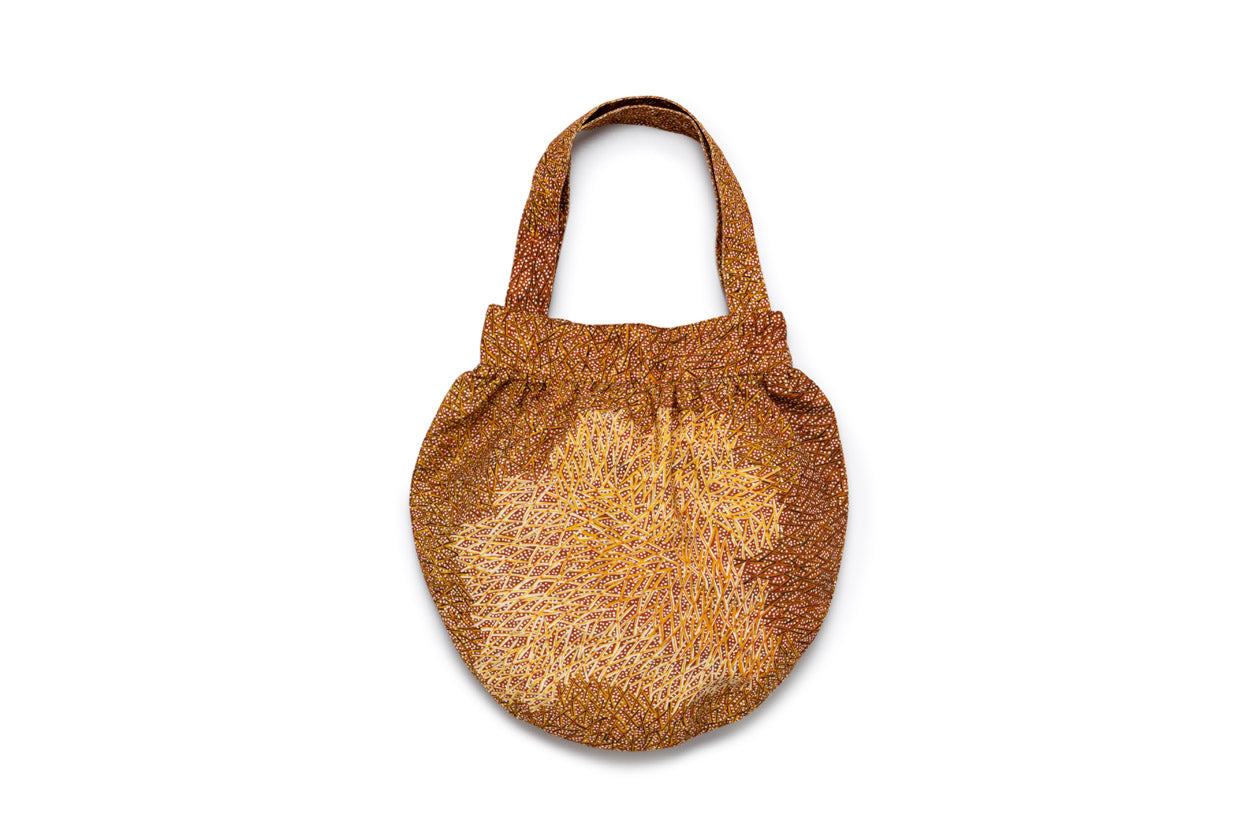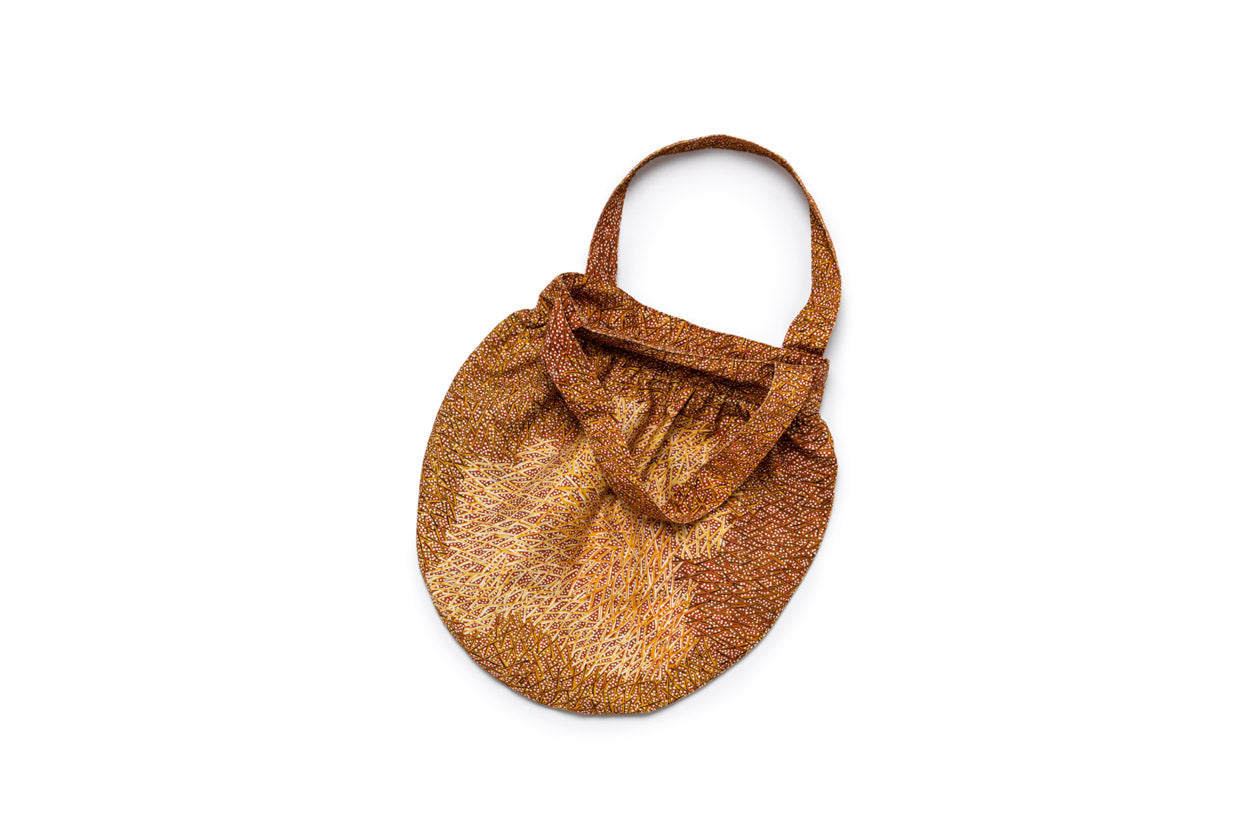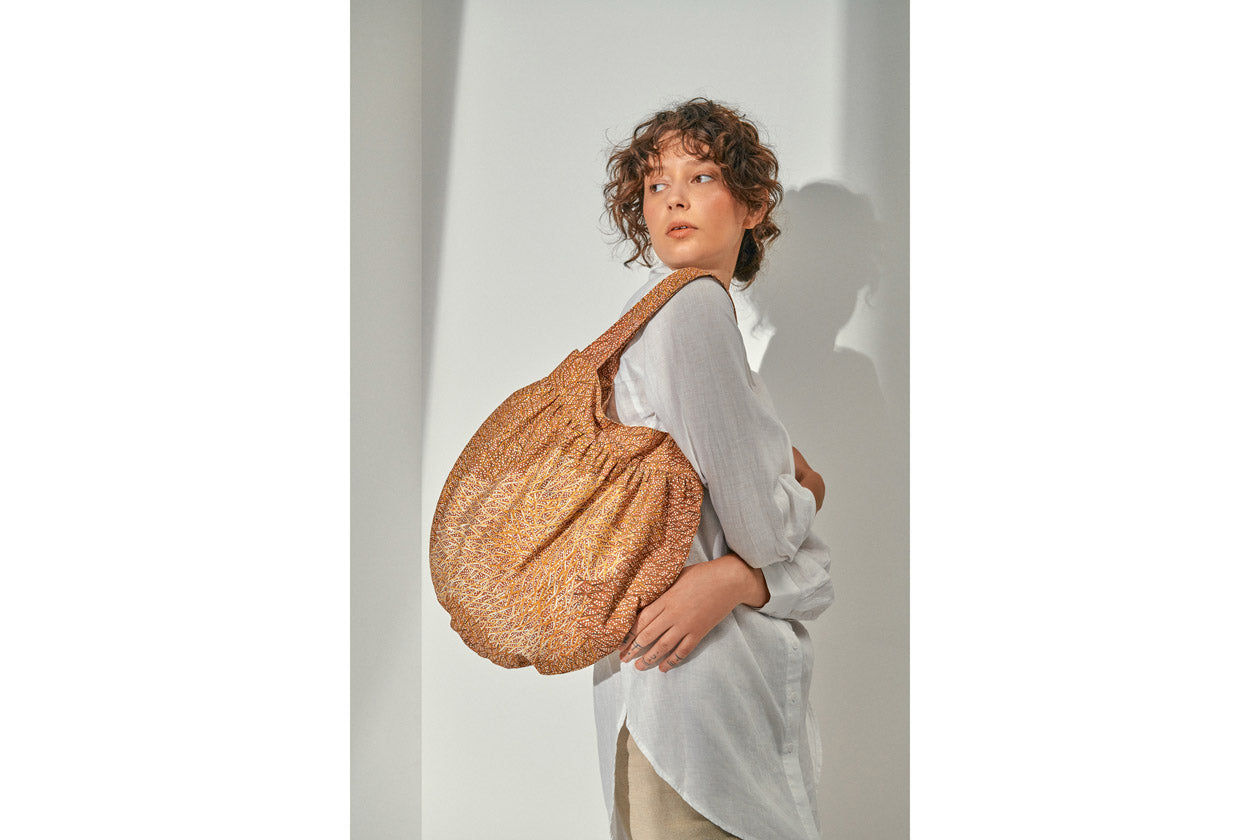 Round Bag – Gulumbu Yunupiŋu, Garuk, The Universe
Description
This round bag has been designed and made exclusively in Melbourne for the NGV design store to celebrate the exhibition,
 Bark Ladies: Eleven Artists from Yirrkala
.
Bark Ladies: Eleven Artists from Yirrkala 
showcases the NGV's extraordinary collection of work by Yolŋu women artists from the Buku-Larrŋgay Mulka Centre (Buku), in North-East Arnhem Land. Buku-Larrŋgay Mulka Centre
is the Indigenous community run art centre located in Yirrkala, a small Aboriginal community, approximately 700 km east of Darwin. According to Buku, under Yolŋu Law the 'Land' extends to include sea, and both land and sea are connected in a single cycle of life for which the Yolŋu hold their songs, sacred designs and art. Yolŋu
women at Buku are known for channeling this unique world view into daring and innovative works of art that demonstrate their mastery over the unique medium of bark.
The NGV design store has collaborated with The Social Studio to produce this exclusive range of apparel and accessories. The Social Studio is a not-for-profit social enterprise, using fashion and creativity to create work and learning opportunities for refugee and new migrant communities. This collection was made in their Ethical Clothing Australia-accredited workshop in Collingwood, Melbourne by the production team of: Tara, Amee, Thi, Zakarya, Nancy, Asal and Ngoc My.
Specifications
Recycled cotton/organic cotton
Digitally printed fabric
Dimensions: 450mm in diameter
Designed and made in Melbourne exclusively for the NGV design store
About the artwork
Gulumbu Yunupiŋu
Gumatj 1945–2012
Garak, the Universe 2008
earth pigments on Stringybark (Eucalyptus sp.)
81.0 x 71.0 cm
National Gallery of Victoria, Melbourne
Gift of Margaret Bullen through the Australian Government's Cultural Gifts
Program, 2014 (2014.359)
© Gulumbu Yunupiŋu, courtesy of Buku-Larrŋgay Mulka Centre, Yirrkala
Round Bag – Gulumbu Yunupiŋu, Garuk, The Universe