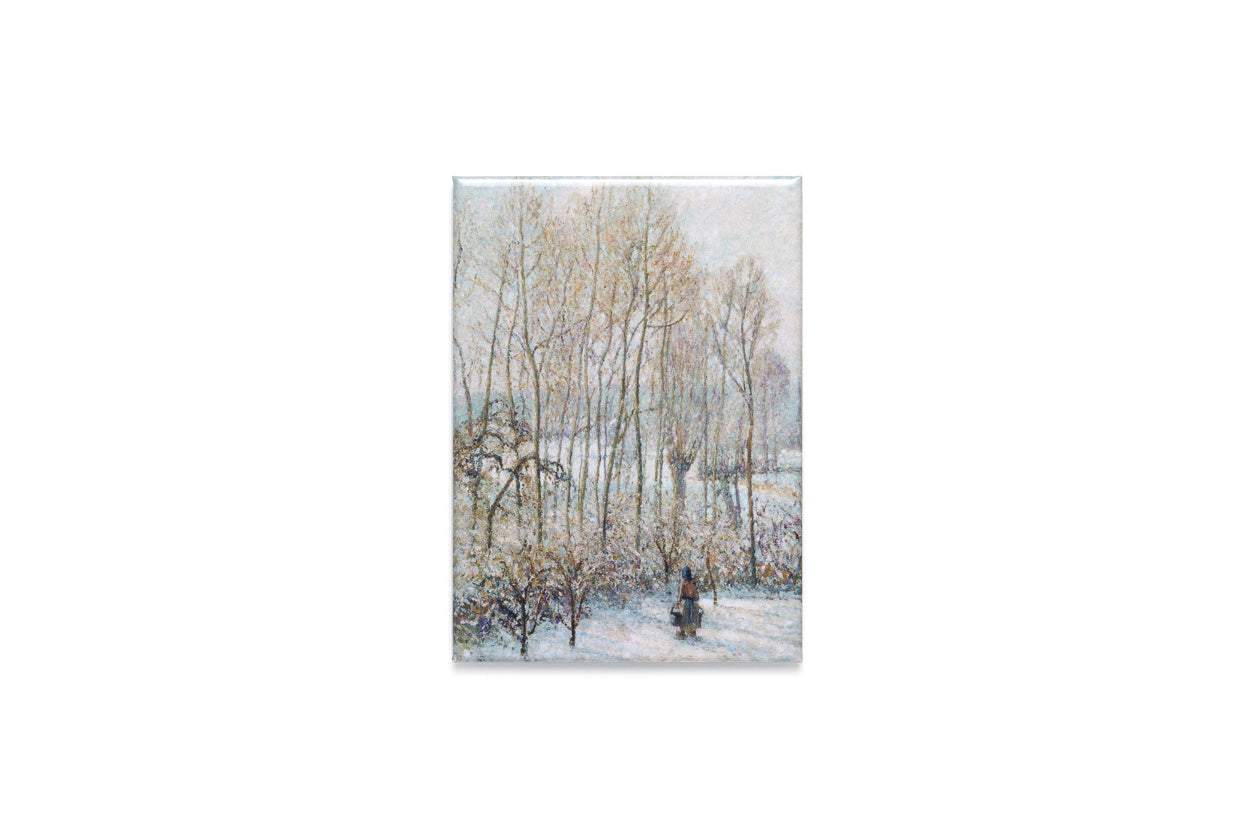 Magnet - Camille Pissarro, Morning Sunlight on the Snow, Èragny-sur-Epte
$2.00
Regular price
$4.00
off
Description
This magnet has been designed and made exclusively for the NGV design store in celebration of Melbourne Winter Masterpieces 2021, French Impressionism from The Museum of Fine Arts, Boston.
 
French Impressionism from The Museum of Fine Arts, Boston provides the rare opportunity to see a significant grouping of Impressionist masterworks in Australia, featuring works by Claude Monet, Pierre-Auguste Renoir, Edgar Degas, Camille Pissarro, Mary Cassatt and more. French Impressionism charts the trajectory of the late-nineteenth century artistic movement, highlighting the key milestones and figures at the centre of this period of experimentation and revolution in modern art.

Specifications
Dimensions: 9cm x 6.5cm
Made in Melbourne and exclusive to NGV design store
About the artwork
In April 1884, Pissarro moved to Éragny-sur-Epte, where he would mostly reside until his death in 1903. In this painting, a peasant woman trudges through the snow, her back to the viewer, her arms taut with the weight of two buckets. Pissarro combines here his sympathy for rural labourers with his interest in winter landscapes. Committed across several decades to humble rural scenes and flickering brushstrokes, Pissarro varied his touch from the broader Impressionist stroke to a more methodical Neo-Impressionist dot and back again. From the late 1880s, Pissarro suffered from an eye condition that made it difficult to work out-of-doors for long periods. He probably painted this scene from the window of his studio, a converted barn in Éragny.

Camille Pissarro
French (born in the Danish West Indies)
Morning Sunlight on the Snow, Èragny-sur-Epte (detail), 1895
Oil on canvas
82.3 x 61.6 cm
The John Pickering Lyman Collection —Gift of Miss Theodora Lyman
19.1321
Reproduced with permission.
©2021, Museum of Fine Arts Boston.
Magnet - Camille Pissarro, Morning Sunlight on the Snow, Èragny-sur-Epte
$2.00
Regular price
$4.00